Resilient communities in Gateshead
Resilient communities in Gateshead: reflections on the impact of COVID-19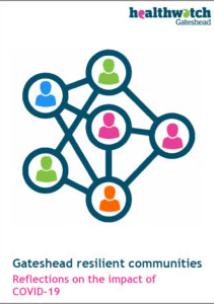 As part of an annual priority setting process during spring 2021, the Healthwatch Gateshead Committee chose the theme of 'resilient communities' as an area to focus on during 2021—2022.
We wanted to understand how the COVID-19 pandemic had impacted the health and wellbeing of the people of Gateshead. How did different people and communities respond? What can we learn to help support resilient, healthy, thriving communities in the future? During autumn 2021, we visited several community and public venues in Birtley, Dunston and Teams and spoke to 131 people. We wanted to know what really 'worked' for people and understand why it worked.
We found three main issues
Three main issues came up. These form the basis of our report recommendations:
The importance of social contact — family and friends provided the most support, and community centres and local charities were also important in helping people get through the pandemic.
Access to services — primary health care services remained open during the pandemic but were delivered differently. However, many survey respondents believed services were inaccessible, and some new parents felt the absence of face-to-face meetings with midwives and health visitors, for example.
The positive impact of getting outdoors — activities such as gardening, walking, cycling and dog walking were all seen as having a significant positive effect for those who could participate.
The impact of the pandemic was not equal. Some people in our communities were further disadvantaged as systemic issues have increased vulnerability.
Read the Gateshead resilient communities report